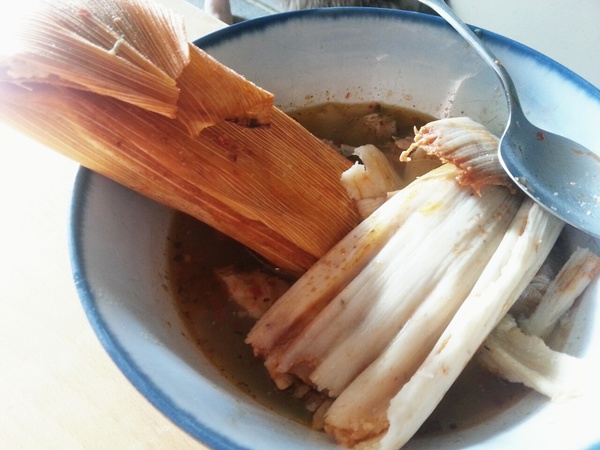 I make this or something like it quite often. It's good on most anything, and a very easy starting point; feel free to play with the flavors!
Ingredients
1 small pork shoulder
1 tbsp vegetable oil
3 7-oz cans diced green chili peppers
6 cups stock or broth
1 medium onion, diced
3 cloves garlic, minced
1 tbsp chile caribe
2 bay leaves
dried regano
very small pinch ground cinnamon (optional)
2 tbsp tequila (optional)
2 tsp lime juice (optional)
Preparation
Preheat the oven to 275° F.
Heat the oil in a pot large enough to hold all the ingredients.
Brown the pork shoulder on all sides.
Add the stock (I use vegetable stock cubes and water), diced chilies, and onion, and bring to a boil.
Turn off the heat, then add the garlic and spices, and any additional flavors.
Cover the pot and put in the oven. Cook at 275° F for 2½ to 3 hours.
Remove the pork shoulder and cut into bite-sized cubes, return to the pot, and cook for another 20-30 minutes before serving.
We serve this on its own, or with just about everything, from eggs over easy to tamales. When serving it smothering something, use a slotted spoon to serve only the solid parts, since it's still basically a soup. Goes well with a chilled rosé or, of course, margaritas. How very Colorado.