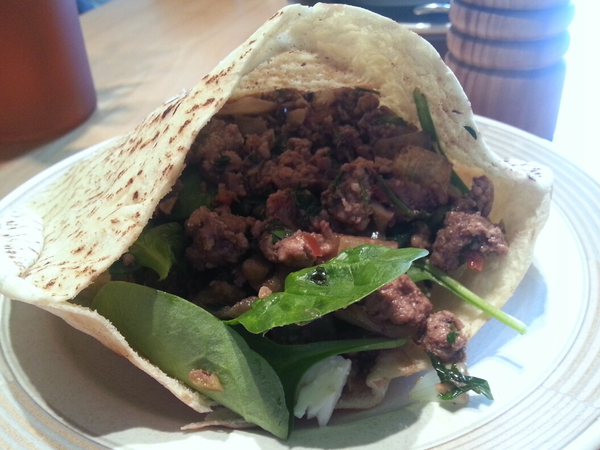 Ingredients
1 lb ground lamb
1⁄2 cup olive tapenade
1 onion, diced
1 small handful (about 1⁄4 cup) finely chopped parsley
1 tbsp garlic
pinch sumac
pinch savory
pinch salt
pita bread
spinach
sliced feta cheese
tzatziki sauce

Preparation
Brown the onions in a bit of olive oil with the savory over medium heat.*
Add the garlic and stir for about thirty seconds.
Add the lamb and stir to separate.
Add the sumac, parsley, and olive tapenade to the lamb as it browns.
Cook until medium to medium well.
Drain the lamb mixture in a strainer over a bowl.
Serve in pita pockets with fresh spinach, feta, and tzatziki.
This was really good, but we didn't actually try it with the tzatziki, since we didn't actually have any. However, everything's good with dill/cucumber/yogurt sauce, so by all means, go ahead! Serve with with something bright to counter the lamb, like a cold rosé.
* I'm serious about browning. This ain't no 5 minute deal. You don't need totally caramelized, but they should be more than just clear.