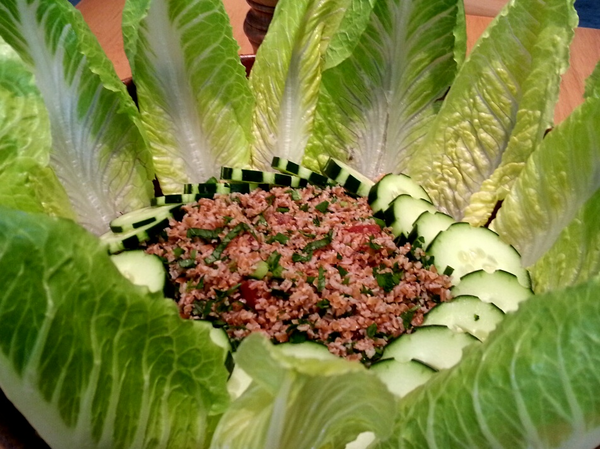 Ingredients
2 cups bulgar
2 cups boiling water
1 bunch (approx. 1.5 cups) finely chopped parsley
2 medium tomatoes
3 green onions
1 tsp cumin
1 tsp ground black pepper
1 tsp sumac
1⁄2 tsp salt
1 half lemon
3 tbsp olive oil
1 heart of romaine lettuce
1⁄3 cucumber, striped and sliced

Preparation
Pour the boiling water over the bulgar and let sit for an hour.
Mix the spices (parsley, cumin, pepper, sumac, and salt), tomatoes, green onions, and zest and juice of the lemon in a large bowl.
Add the bulgar and toss thoroughly to mix.
Refrigerate for an hour to let the flavors blend.
Toss again with the olive oil before serving and line the bowl with romaine leaves in a spoke pattern around the edge, and lay cucmbers (if using) at their bases.
This is just as good (if not better) the next day. It is definitely better the next day fried in a little bit of olive oil: the parsley becomes very fragrant and the flavor change quite a bit. Serve with pear eau-de-vie or something else light and fruity. We served the fried version with cucumber summer salad (toss sliced cucumbers, diced tomatoes, and diced onions in balsamic vinaigrette and a pinch of salt, then refrigerate for an hour) and it was a delightful mix of hot and cold.